Posted on | September 10, 2005 at 4:12 pm | 9 Comments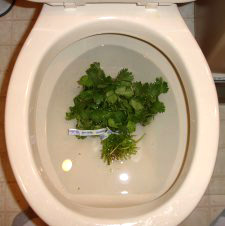 I mean it. I've been fooling myself for years, but I've just recently come to the conclusion that I don't like the herb cilantro. There, I'm finally admitting it to myself and everyone else. Since Mexican food (or at least Tex Mex) is pretty popular around here, it ends up getting used a lot. Keep it out of my guacamole, please! It ruins everything it's in. This is just like my anti-celery realization of a few years ago – the taste of it overpowers anything else in the dish. And it's not a particularly good taste.
I guess part of me thought that if I just kept eating it and using it in recipes, I'd begin to appreciate it. Well, that didn't work. It's Boycott Time! I'm no longer going to buy it, and I'm no longer adding it to recipes. I'm no longer making dishes that have "cilantro" in the title (like cilantro-lime bean dip, although the lime does cut down the cilantro taste a bit). I'm obviously not going to be able to avoid cilantro dishes at restaurants and parties, but I'm going to do my best. And when people ask me why, I am going to speak out against the Devil Herb. I know this is probably not a popular stand to take it, but darn it, someone has to do it. Cilantro, your days are numbered.
Latre.


Comments