Posted on | October 13, 2007 at 12:04 pm | 20 Comments
Wow. There are so many thoughts swirling around in my head right now. I need to get them down, but I don't know how good of a job I'll do. Please bear with me. And if you want a Happy Post, I'm afraid you'll have to look elsewhere for now.
What is the measure of a (hu)man? That's a complicated question. To me, it's someone who helps others selflessly without raising a fuss or expecting recompense. It is someone who takes responsibilities to family, friends, and co-workers seriously, yet has a lot of fun doing it. It's someone who will listen without judgment and will offer common sense advice. It's someone who is always there to lend a hand cheerfully and who doesn't make drama out of small (or even major) annoyances. By my own measure, I'm woefully inadequate. But there is someone I knew who pegged very high on that impossible scale. The world was a better place with him in it.
I remember it was almost a year ago when my good buddy Bryce Morris III called me up and told me that his cancer had come back. That was something of a momentous day for me, for other reasons, and I was a bit distracted. Though I was worried and afraid, Bryce sounded upbeat and optimistic, and I had no reason to doubt that he would easily beat it just like (we thought) he did last time. Bryce passed away yesterday morning, his tall body a mere shell of its former self, his bones eaten away by skin cancer gone wild. But he still had that shock of red hair, protruding from a head grown too thin.
When his wife Ty called me last week to tell me that he was in Hospice, I was floored. I had no idea things had gotten that bad, and that was my fault. I could say that I've been distracted this past year with dealing with my father and his health/financial/housing issues, and with a new romance, and with my job, and all that. But the truth of the matter is most likely the selfish part of me won out and I just didn't want to deal with any more sickness. Oh, I would still talk to him on the phone from time to time, and we got together a couple of times, but for the most part I was just hoping/planning that things would be okay and I wouldn't have to face the horror of another friend or family member wasting away in front of my eyes. I think the last time I saw him in person was way back in March when we went to see Ghost Rider. I could see then that things weren't going well. He was shorter and thinner, he was walking with a cane, he couldn't drive (I drove us to the theater), and he sat in the theater chair leaning forward. But he still sounded positive, was as sharp as ever, and talked at length about the exciting things going on at his work place, about new technologies, and about his kids' activities. He enjoyed getting out of the house for the movie. I think part of me realized deep down which way things were going at that point, but I didn't want to acknowledge it. I wanted to stay upbeat for both of us.
The following months, we spoke very little. He developed an unknown problem with his tongue that made it hard for him to speak (and swallow), and even then I was thinking "He'll make it past this and be the old Bryce again", though the more logical part of me probably screamed the opposite. The last time I talked to him was a month ago, when I accidentally called his number when I was trying to reach my boss during a work on-call issue at home. I think I told him I'd call him back when things settled down, but I never did. Life is full of regrets, isn't it? He was always there for me, and I wasn't there when he probably needed me the most. But I know that Bryce understood – that's just the kind of guy he was.
Forgive me if some of my memories are a bit fuzzy. I'll try not to make things up. I don't remember exactly when I first met Bryce. I know we went to the same high school, though he was 3 (or 4?) years behind me. I didn't really get to know him until he started hanging out with the ALF crowd. He wasn't even working there then (and I'm not sure I was either), but he was soon after that. So we're probably talking early 80s here, which means I've known him for around 25 years. We both eventually started working for ALF, assembling circuit boards and such. Then I graduated college and went into programming and he went into sales, both of us still at ALF. Those were good times – I remember going out to pizza a lot with the gang, watching rented VHS movies, and many other activities, which Bryce was always a big part of. Eventually, around 1986, Bryce joined our band and became the lead singer for a time. (There are recordings of some of the original songs he sang and/or wrote the lyrics to here.) Awhile after ALF got bought by Rimage, I could see the writing on the wall and quit to go work for NRI. When Rimage closed the local office, Bryce came over to NRI also. Again, he was in sales and I was in development. And then when NRI closed up shop and we were laid off at the same time, we both went to work for Ixchange. They were looking for a sales guy and a tech/support guy, so that was perfect. I quit that job after a year – it wasn't quite my thing – but Bryce stayed on, sticking with the company through all the name changes and acquisitions and such, eventually ending up working at Front Range Solutions in Colorado Springs, where he had to commute nearly every day. Luckily, he was also able to work from home some days, which especially came in handy this last year.
When I say that Bryce was in "Sales", that's not strictly true. Bryce never really did just Sales. I think he was more of a sales support guy – someone who knew the company's product inside and out and was always seeking to improve it. He even learned some technical disciplines, engineering and programming and such, in order to further his role. He was always trying to make things better. He loved digging into the nuts and bolts of things. I remember at Ixchange, he would frequently spend hours after work just playing around with the software, tweaking it and poking into all the nooks and crannies of the user interface. This carried over into all aspects of his life. I can't begin to list all the house / car / home entertainment / computer projects he's helped me with over the years, always with a smile and always with that one eye focused on how to do it better. If Bryce had any faults, it was perhaps that he was sometimes too helpful, suggesting elaborate solutions when you just wanted the simplest one. But again, that's the kind of guy he was. He just wanted to make sure it got done right. I can totally identify with his perfectionism.
During the years he was commuting down to the Springs, we would frequently get together to play video games or watch DVDs on a Friday night, or to hit the theaters on Sunday to see the latest bombastic action flick that Ty had no interest in. For a long time, I would see him several times a month. He usually didn't come over on Friday night until after the kids were in bed – he was always a family man first. But that made for some late nights, especially back in the days when we were trying to get through Grand Theft Auto 3 and Prince Of Persia: The Sands Of Time on the PS2. He was always better at most video games than I was and I depended on him to show me how to get through the frustrating parts. I think for awhile there, we were getting together almost every week in order to get through those games. So even though we weren't working together any more, we still found a way to interact and keep in touch and have fun. I miss those times a lot. I will miss Bryce even more.
When my friend Jeff Slaten died a couple of years ago of an unexpected heart attack, that was a bad blow. But even though he had a big influence on my life, I really only knew him well during a few brief, intense years of my younger life. We hadn't kept in contact through the years. It's so much different with Bryce. He's been such a big part of my life for so long that it's hard for me to imagine, or enjoy, a world without him. How could this vital, selfless man of only 43 years be taken away from us in his prime? Why did his robustness have to be stripped away by this awful, aggressive disease? Why did he have to go through so much pain? There is no dignity in cancer, but there is in the way he handled it. Why must Ty, Kylie, Ryan, and Nick be forced to get by in this world without their loving husband/father? How is any of this fair? Those of you with such a bent may argue that God / The Universe / Fate / Karma / Whatever was sparing someone else greater pain down the road by allowing this tragedy to happen. I don't understand how people can take comfort in such things.
All I know is that I'm never going to see my friend again. Never going to high-five him when we make it through a tough level on a video game. Never going to hear his maniacal laugh as some bit of over-the-top grossness spews from a movie screen. Never going to share another male bonding moment with him over sushi and Sapporo. Never going to get another helpful lecture from him about the proper way to treat a car. I am at least grateful that I got the opportunity while he was still somewhat lucid to tell him what he meant to me and to cry with him. But I am very sad, and angry at myself and at the world.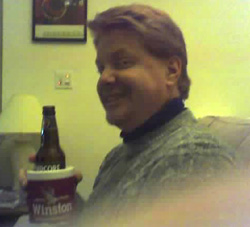 Rest in Peace, my man. I love you.
Later.
P.S.
The Funeral Service will be Tuesday 10/16 at 11:00am
Abiding Hope Lutheran Church
6337 So. Robb Way
Littleton, CO 80127
303-972-1283


Comments