Posted on | October 29, 2008 at 7:05 am | 12 Comments

Woo hoo! Today marks one complete year of daily blog postings by yours truly. I'm not sure why I set this goal for myself, but I did, and I achieved it. So pop the bubbly and party it up! I've posted an entry every day since Oct 30th 2007, even while I was on vacation. And since 2008 is a leap year, that's actually 366 consecutive posts, not just 365.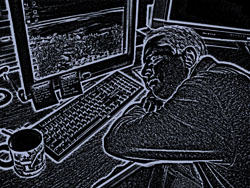 So what am I going to do to celebrate, while you're downing the Sparkling Wine? I'm taking time off, of course! For a long time now, I've wondered what it would be like to go through life without writing something every day and without analyzing every aspect of my experiences for blog fodder. Maybe I can just enjoy the oddness of something without remarking on it or taking a picture of it? Maybe I won't get as upset when I'm not always trying to turn life's little annoyances into Pet Peeves of the Day? Maybe I'll actually have a little extra time to get some other things done that I've been meaning to do? Or maybe I'll just be extra lazy? Who knows? Maybe I'll get so giddy from the freedom that I'll never want to don those blogging chains again. But I doubt it.
My current plan is to take just a week off, so I should return on Thursday, Nov 6th. Will I resume daily blogging after that? I don't know. As I've said before, if I get off pattern it's really hard for me to get back on.
Oh, and that should give you all plenty of time to divine the mystery of last Friday's post, which is still unsolved at this point.
If you really, really must know what I'm up to during the forthcoming week, check out my Twitter feed. (For those of you reading this by RSS, the Twitter feed is also displayed over on the left hand side of the blog.)
And no, I'm not taking a trip!
So, I'll see you in a week. Unless something interesting happens in the meantime that I must comment on. Isn't there a holiday in a day or two? And an election or something next week?
Latrrrrrrrrre!

Pet Peeve of the Day: Shirtless, sunglasses-wearing guys in shorts with shopping carts dancing in busy intersections in the middle of the day.
Happy Thing of the Day: Cloris is gone at last!!
Scary Search Term Of The Day That Led To This Blog: "snake found in cilantro".


Comments